Programs For Children
The following are programs for children.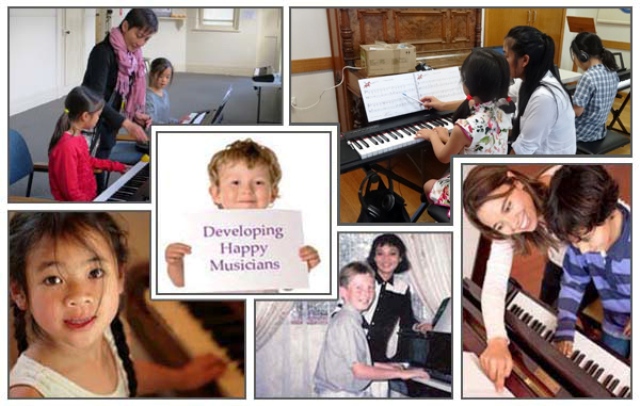 Piano and Music Enrichment for Juniors
For children who have are in kindergarten and those beginning school
Our young beginners are given age-appropriate introduction to practical piano skills. They also learn basic music theory, rhythm, singing and movement
Music-learning happens in a fun, social setting with an accompanying adult
Musical creativity and ensemble playing are introduced
We share the vision of the Australian Early Years Learning Framework and this is reflected in our programs
Our young beginners then progress seamlessly to our Foundation Program
Our Foundation Piano Programs:
At Charteris Music School, we believe in developing a strong music background. Our students progress at their own pace through different levels of our small group foundation programs. These levels form the basis on which your children will be able to continue further study in acoustic piano and/or other musical instruments and/or singing.
Unlike some other places, Charteris Music School has a solid path of progression. At the completion of our foundation programs, our students progress to our more advanced individual or/and group classes. Students and their families have ample opportunity to discuss their music goals. Leisure, performance and a combination of leisure and performance streams are available.
Students who undertake music exams (for example, AMEB) have individual lessons.
In a fun environment, they learn the following skills in our Foundation Programs:-
practical music techniques (students are taught to read notes in the treble and bass clefs [individual notes as well as chords])
singing skills
aural, pitch and rhythm skills
music performance, both as a soloist and as part of an ensemble
expression and creativity in music
social skills
self-discipline
We group students according to ability and age.
Suitable for all school-age children (including children in Prep as well as Older children).
We provide a comfortable, relaxing waiting lounge. Public library and other amenities are nearby.
Younger children who are not yet at school are generally more suited to our 'Piano and Music Enrichment' Program. However, occasionally, younger children may be accepted to this program directly - please contact us for more information.
If your children have previously learnt to play the piano and who would like to join our program now, please contact us so that we can place them in an appropriate level of our programs, based on their skill.
Our Foundation Program for Other Musical Instruments:
Interested in a different instrument?
Please contact us for more information.
Children Vocal/Singing Program
For beginners who would like to learn vocal/singing skills appropriate for their age and development. In this program, children learn solo and group vocal/singing and be introduced to basic music theory. They will enjoy the experience of singing popular musicals and songs.This program is tailored to children aged 4½ and above.
Children Singing and Piano-Playing Program
For children who would like to play the piano and sing together. In this program, they will delight in the experience of being able to play the piano and sing at the same time. Vocal/singing and piano techniques are taught. They will learn to sing and play contemporary songs/musicals and other pieces appropriate for their age and development. It assumes minimal basic piano skills. This program is tailored to children aged 5½ and above.
Looking for a program that is not on this page?
If so, please click on Contact Us to ask and find out more.