Why Learn Music As An Adult?
Scroll down to read more.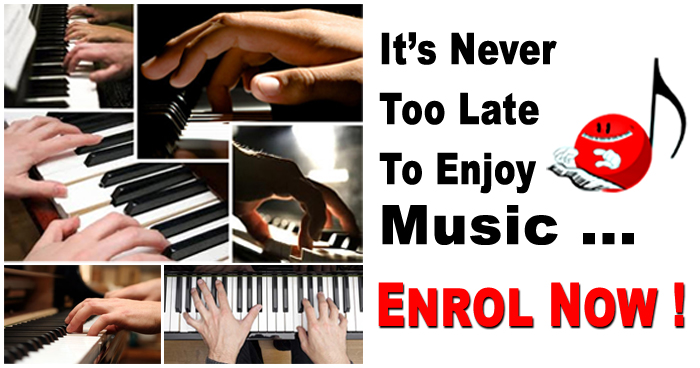 The Power of Music on Adults
Here at Charteris Music School, we also specialize in helping adults reach their music goals. You could be
18 or 81,
wishing to learn so that you can bond in music with your kids★ who are also having music classes,
learning for personal pleasure,
a beginner learning for the first time or an accomplished player wishing to upkeep your skills,
all or none of the above.
No matter what your reasons are, we are ready to help you develop your musical ability.
With over 30 years of music teaching experience, students have ranged from a tender age of 3 to adults and seniors.
This is a great time to consider taking up an instrument or singing. Apart from having more appreciation for musical studies, research also shows that learning and playing a musical instrument can also yield tremendous health benefits. The therapeutic value of musical training includes a boost in brain functionality, a strengthening of the immune system, and an increase in positive thinking ... and we haven't yet mentioned that learning to play an instrument can be a lot of fun!
★ or grandkids.
Why Music as an Adult?
" I've always wanted to play music and/or sing but was never brave enough. "
" I want to share music as an interest with my kids who are learning an instrument. I want to be able to jam with them, and play music with them. "
" I loved music at school but thought that only 'real' musicians and singers continued on after we finished school. "
" I have always wanted to sing but my family's comments about my music ability always put me off. "
" I used to play music/sing when I was at school but I haven't done this for a very long time now. "
" I want to join our community choir (or play the piano for our church/at a community function) and want some lessons to boost my confidence. "
" All those wonderful songs from when I was young... all those songs that bring back so many memories... I just wish I could play and sing them and be young again. "
If you have thought of any of these statements above, then our adult singing or piano class is right for you. Please click here to enrol now.
What are the Benefits of Music Classes?
To belong, to form friends with shared interest:


Humans have the need to belong, to be part of a group of individuals who share interests and come together for a purpose. Such needs are as important to children and teens as they are to people in mid-life and to seniors.



To enhance the flexibility of our brain:


Whilst a lot has been written about the brain being more receptive to musical training earlier in life, medical research has shown that the brain circuitry is capable of change at ALL ages. This is commonest after a stroke, when the individual has to relearn how to do certain activities which were lost when he or she had the stroke.

According to Science magazine, older brains never lose their capacity for change. When a new skill, such as learning the electronic piano, is acquired, the brain shows increased circuitry and neurotransmitters, regardless of the age when the skill was learnt.

After a study of violinists was conducted in 1995, Thomas Elbert of the University of Konstanz in Germany and Edward Taub of the University of Alabama concluded that "Twenty years ago people thought that the structure of the brain develops during childhood and once that organisation in the brain has been developed that there is very little room for changes and for plastic alterations. Now we know that there is enormous capacity for change at all ages."

There are some who believe encouraging this brain flexibility (such as with piano-playing) is our way of achieving eternal youth.



To enhance our memory:


There is a strong association between cognitively challenging leisure activities (such as learning a musical instrument) and a decreased risk of developing Alzheimer's disease and other forms of dementia. This was shown by a 21-year study by the Albert Einstein College of Medicine in New York by Dr Verghese which was published in the New England Journal of Medicine in 20031.

Another study2 in Illinois retirement home revealed that seniors, aged between late 70s to early 90s, had a 50-70% memory improvement after just 16 weeks of learning a new musical instrument. It is believed that the processes involved in playing a musical instrument may provide the cognitive exercise the brain needs to protect itself against memory loss.



To improve our concentration, to improve eyesight and hearing:


Dr Frank Wilson of the University of California School of Medicine in San Francisco found that learning a musical instrument leads to better concentration and memory, enhanced coordination and improvement of eyesight and hearing.



To beat the blues, anxiety and loneliness:


This is particularly relevant to adults who are retired or live alone.
Dr. Frederick Tims, principal investigator for the 1999 Music Making and Wellness Research Project and professor and chair of Music Therapy at Michigan State University, reported that there were significant decreases in anxiety and loneliness in adults following group music lessons. Anxiety and loneliness are factors that are critical in determining how our body copes with stress, how it stimulates the immune system and results in improved health. Results from Dr Tims' research also show significant increases in human growth hormone (hGH) following music lessons in 90% of this same group of subjects. Human growth hormone is a chemical which is associated with slowing of ageing factors such as osteoporosis, wrinkling and aches and pains.
In 2005, Dr Barry Bittman and his team showed that playing a music instrument reduced stress more than other relaxing activities such as reading the newspaper.
Why do Adults Make Excellent Students?
Adults are self-driven and goal-oriented
Unlike children, adults learn because they have chosen to do so, not because their parents are making them.


Adults understand why they have to practise
Adults can understand easily the theory behind different aspects of music-learning. Therefore, they can understand why they have to practise. Because adults understand perseverance and because they are goal-driven, they will practise voluntarily and progress at a faster rate than those who do not practise.
Why group lessons?
Group lessons introduce you to new friendships as you pursue your love of music. If there are children around you, you may also find that you become closer to them, especially if music learning is now a shared experience.
Generally speaking, adult learners do not look to become skilled performers but rather, they take music lessons to look for a creative and rewarding social experience – a chance to bond with others, an opportunity for self-expression or to relax, or do something 'healthy' for themselves.
However, occasionally, there are adult learners who wish to experience a music exam, sometimes "just to see what it is like". If you wish this, please let your music teacher know so that your adventure will be well supported.
As the quote goes, "Everyone is too young to be old". In particular, you are never too old to learn to play the piano and/or sing. So, if you have ever dreamed of making sweet melodies or penning your passions into songs or any musical activity after all these years, this is the ideal time to learn.
Get your friends together and start classes immediately!
If you are a school or another facility interested in ensemble classes at your location,
please Contact Us to ask and find out more.
1Verghese J, et al. Leisure Activities and the Risk of Dementia in the Elderly. New England Journal of Medicine 2003;348:2508-2516
2Patrick B. Massey, M.D., Ph.D., "Learning an Instrument Seems to Help Mental Function," Daily Herald; 26 September 2005