Why learn music as a child?
Scroll down to read more.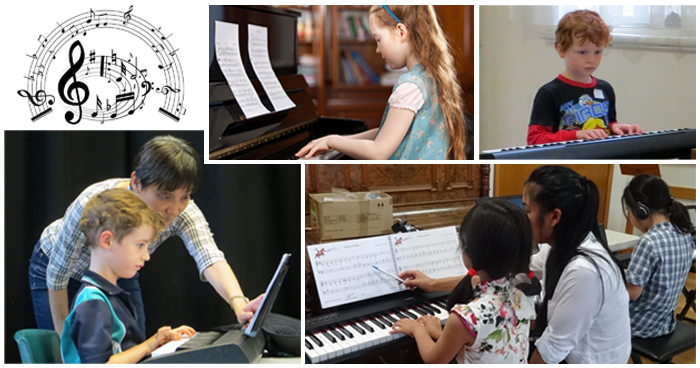 Can Music Lessons Improve Your Child's Intelligence?
Do parents need to give their kids a music education?
The answer to this question is a resounding yes, since numerous research studies have proven that studying music contributes unequivocally to the positive development of the human brain and physiological well being.
For example, Rauscher and her colleagues in 1994 showed that after 8 months of keyboard lessons, preschoolers demonstrated a 46% boost in their spatial reasoning IQ, a skill important for certain types of mathematical reasoning.
Why music lessons?
Children who have had music lessons learn to persevere and accomplish a sense of achievement when they reach their goals. It reminds them to stay focussed and gives them the confidence to achieve great things in their lives.
As a result of ongoing exposure to the world of music, they grow to be well-rounded, interesting adults who are knowledgeable and conversant in many fields (world history and sociology, science and mathematics of music, understanding of the arts and so on). It gives them a unique identity. The likelihood of their being interested in more than one musical instrument is high after pleasant experiences.
How does playing music help brain development?
There are very few activities which we do each day that activate both sides of our brain.
One of these very few activities is playing musical instruments.
Activities that engage both sides of the brain at the same time cause the brain to be more capable in processing information.
Simultaneous left and right brain action maximises learning and retention of information.
Psychologist Petr Janata and his team concluded that, compared with non-musicians, the brains of musicians are more efficient at making skilled movements.
At the University of California School of Medicine San Francisco, Dr Frank Wilson says his research shows that piano practice enhances coordination, concentration and memory. It also brings about the improvement of eyesight and hearing. Involvement in music connects and develops the motor systems of the brain, refining the entire neurological system in ways that cannot be done by any other activity. Dr Wilson goes so far as to say he believes music instruction is actually necessary for the total development of the brain.
" Music instruction is necessary for the total development of the brain. "
Music also improves memory and learning in unrelated fields, as shown by Dr George Lozanov's research. He designed a way to teach foreign language in a fraction of the normal learning time by associating words in the foreign language with 60 beats per minute Baroque period music. He has proven that foreign languages can be learned with 85-100% efficiency in only 30 days by using Baroque music. His students had a recall accuracy rate of almost 100% even after not reviewing the material for 4 years.
Therefore, music brings your child lifelong advantages.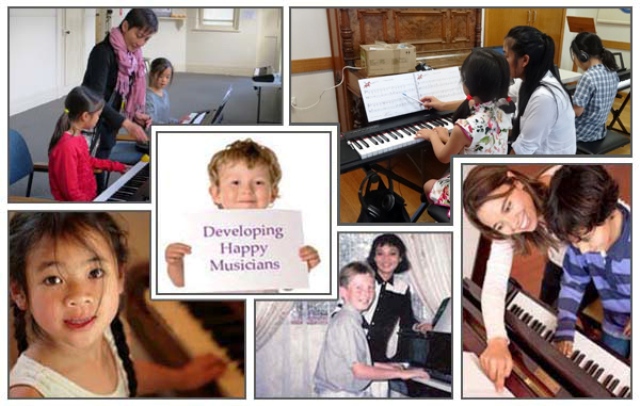 " Our unique curriculum is only available because our Director is a medical specialist as well as a music educator. This is what differentiates us from other music schools in the country and, possibly, in the world. "
Why Charteris Music School?
We merge fun and enjoyment with instrumental techniques tailored to your child's age and development. Children are introduced to music reading and theory gently.


Our small group programs enhance leadership qualities, with opportunities for informal concerts, ensembles and music creativity.


Certificates of successful completion of course level are provided to encourage achievement. Parents will be informed about their child's progress.


We at Charteris Music School provide a wide range of musical education for your children, including a general Music Enrichment Program, small group instrumental and singing lessons, and private music lessons. Children can enter our flexible music programs during the term, and will be placed with children of similar age and ability.


Lesson duration ranges from 20 minutes to 1 hour, depending on child's age, numbers in group program and level of competency.


Music programs at Charteris Music School are reasonably priced because we believe in the gift of music. We wish as many children as possible to enjoy a music education because it helps their brain development, physiological well-being and it helps them excel in other areas of learning, such as mathematics and language.


Our music curriculum encourages your child's positive brain development and improved overall physiological well-being. Our unique advantage is only available at Charteris Music School because its Director is a medical specialist as well as a music educator. This is what differentiates us from other music schools in the country and, possibly, in the world.
If you are a school or another facility interested in ensemble classes at your location,
please Contact Us to ask and find out more.